7-a-Side Summer Soccer!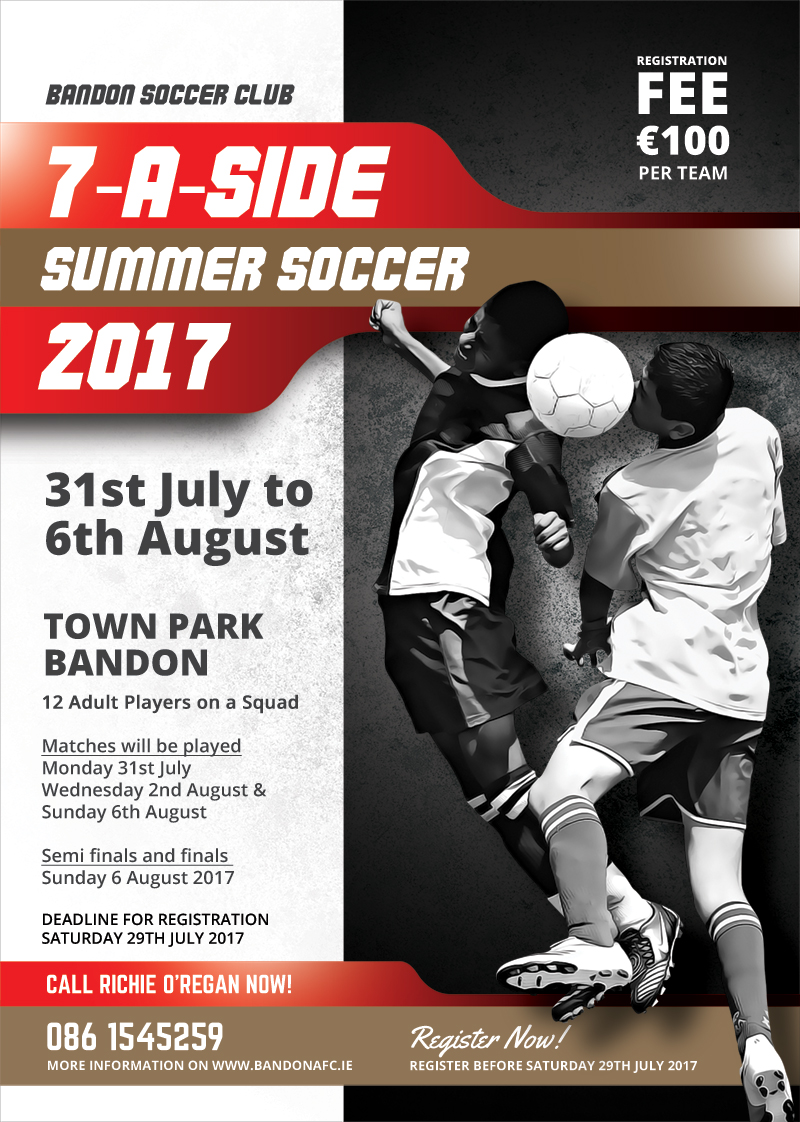 Adult 7-a-Side Summer Soccer
Tournament Schedule
Group 1 (all games bottom pitch)
Group 2 (all games middle pitch)
>>>>Wednesday night (bottom pitch only).<<<<
Winner group 1 vs runner up group 2. kick off at 7.
Winner group 2 vs runner up group 1. Kick off 7.30
>>>>Sunday 15 mins a half <<<<<
Winner Semi Final 1 vs Winner Semi Final 2
Runner up Semi Final 1 vs Runner up Semi Final 2
3rd place group 1 vs 3rd place group 2.
Are you a Business, Pub, Group of Friends? If so, then enter the Bandon AFC Summer 7-a-side competition!
Location – Town Park, Bandon
Fee – €100 per team.
Registration
To Register email your team name, list of players and a contact number to Richie @ regan13@eircom.net 
Register before Saturday July 29 2017
Rules
Matches will be played on Monday 31/7, Wednesday 2/8 and Sunday 6/8
Squad
– 12 Adult players on a squad. (can bring in additional players during competition if players are unable to attend but not players that have played for another team in the competition).
– 7 a side.
– Subs roll on/roll off.
Pitch
– 18 yard line to 18 yard line on bottom or 3rd pitch. Normal width.
– Normal sized goals.
Match
– 15 min a half.
– No penalties, instead there will be free kick 10 yards from goal.
– No offside rule.
– If a female player scores it counts as 2 goals.
Semi-finals and finals will be played on Sunday 6th August 2017
If you need more information, ring Richie O'Regan @ 086 1545259