U14 Girls – Premier League Champions!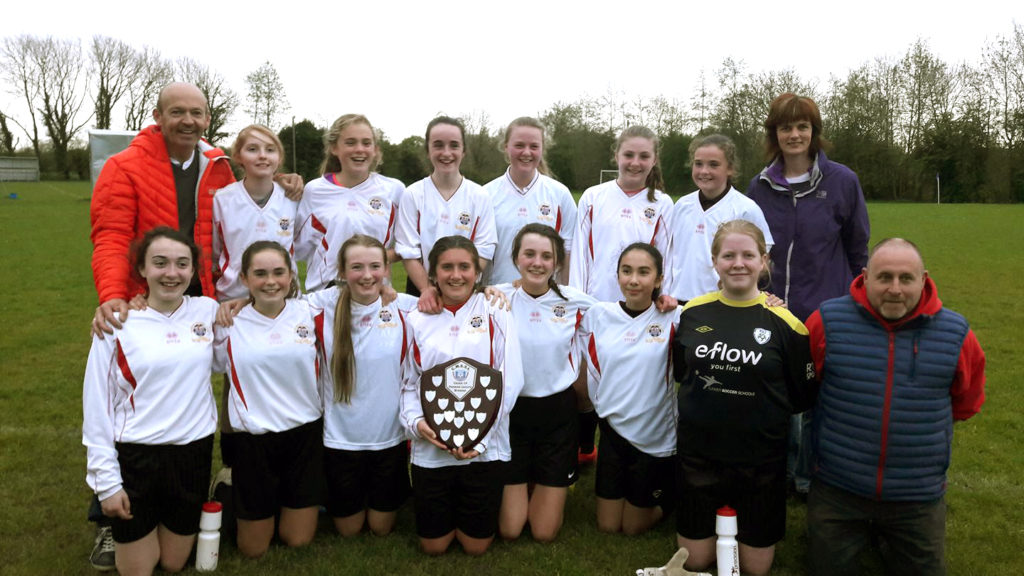 The team defeated Wilton away 5-2 in a crunch match last Tuesday, and even with a match to go can't be caught. Wilton had defeated Bandon 3-0 the previous week in a cup semi-final, so it gives an indication of the enormous achievement in winning the league match just a week later in such convincing style. From start to finish, every one of the Bandon girls put 110% into every thing they did and Wilton simply couldn't cope with Bandon's attitude and aggressive style of football. The goals came from Alannah O' Brien (2), Orlaith Deasy, Cliodhna Prendergast and Niamh Cotter, with the remainder of the squad including Maeve O'Driscoll, Sharon Buttimer, Kate Weblin, Ella Donegan, Holly Warren, Izzy Canniffe, Sarah Barry, Emily Holland, Rachel Barry and Such Callanan. The final league match takes place in Bandon at 6.30pm this Thursday.
The team has also qualified for the Una Moore Cup final against Wilton United to be played in Turners Cross, mid May currently proposed for the match. Having already defeated Douglas Hall 3-2 in the opening round, Passage 2-1 in the quarter final and Lakewood 4-0 in the semi-final (with Orlaith Deasy hitting all 4 in this match, as well as the 2 against Passage!) the team will enter the final looking to complete an historic double.
This group of girls have been knocking on the door of success for the past few years, the majority of them being part of the team which finished runners-up in the U12 Division 1 league in 2014, runners-up in the U12 Premier Division in 2015 and 2016 and also qualified for the National U12 Blitz finals in The AUL Complex Dublin last September, finishing the top Munster Club.
Article written by Donal Warren
Photo: Karen Kelly